[bs_collapse]
[bs_collapse_item title="English" active="not_active"]N/A[/bs_collapse_item]
[bs_collapse_item title="Danish" active="active"]
KLAUS & SERVANTS – Musik Er Mit Liv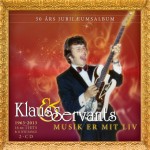 Hvis det så var en sjælden gang til specielle lejligheder, ville det stadig være forståeligt – men sandheden er, at det er et fåtal af danske artister der optræder mere end 100 gange på et år. 50 år i træk.
Det, der holder gryden i kog, er, at Klaus & Servants hele tiden er i gang med spændende projekter og konstant involveret i udvikling af nye koncepter, der har til formål at underholde publikum. Bandet var med i Parken to år i træk, og har været næsten permanente gæster på TV2Charlie.
Efter "En aften med Klaus & Servants" – Live DVD+CD fra en koncert på STARS i Vordingborg, som flere gange er blevet vist i TV, kunne bandet notere en endnu større succes med albummet – "NON STOP – De Største Party Hits" – som i 7 uger var på TOP 40 – Danmarks Officielle Salgsliste. Med 39 albums udgivet siden 1971 er det forståeligt, at gruppen er vellidt af flere generationer.
Vi skriver 2013 og den 7. tourbus er udskiftet endnu engang til en 12 tons Mercedes lastbil – så nu er der friske hestekræfter til at følge op på en sprit ny udgivelse fra Klaus Og Servants. Det aktuelle dobbeltalbum "Musik er mit liv" er således nummer 40 i rækken og her gæster bl.a. Dario Campeotto på "Her Står Vi Så Nok Engang" En fantastisk sjældenhed i dansk musik og ret rammende for de mange udgivelser som Klaus Og Servants har bag sig. Klaus forklarer:
"Så længe vi kan gøre folk i godt humør med vores sange, ser jeg ingen grund til at kaste anker. Selvfølgelig kan man ikke være i showbusines i et halvt århundrede uden at opleve både op og nedture. Jeg skrev engang en sang, som har mit motto som titel, og ligesom jeg er glad for at have min gode ven Dario med på dette jubilæums-dobbeltalbum, er jeg glad for at Anne-Mette Rix – som medvirker i hele to af de shows vi præsenterer – lagde vejen forbi studiet og sagde: Syn's du ikke, at vi lige bør synge den sang, du har skrevet, som fortæller, hvordan det lige er, man gør!"
Det nye album "Musik Er Mit Liv" udkommer d. 4 november 2013.
Tracklist
CD 1:
01. Bank Tre Gange
02. Herlig Herlig
03. Herstedvester
04. Ring Ring
05. Den Bedste Pige
06. En Sommerdag På Øresund
07. Kundskabens Træ
08. Vi Må Passe Bedre På Vor Moder Jord
09. Som En Vind
10. Når Et Hjerte Slår
11. Jeg Vil Leve
12. Første Lille Trin
13. Sommerens Kys
14. Juliane
15. I Dag Og I Morgen
16. Himlen Er Hos Dig
CD 2:
01. Rock "n" Roll Eyes
02. Stop
03. Country Rock Café
04. I'll Send You My Love With The Starlight
05. My Heart Skips A Beat
06. Never Gonna Give It Up
07. Hva' Ska' Der Med I En Sang
08. Her Står Vi Så Endnu Engang
09. Ikke Et Hår Er Vådt
10. På Ferie
11. Go' Jul Fra Servants Og Santa Klaus
[/bs_collapse_item]
[/bs_collapse]