MHA – Manden bag Target Group
Michael Hvolgaard Andersen
michael@targetgroup.dk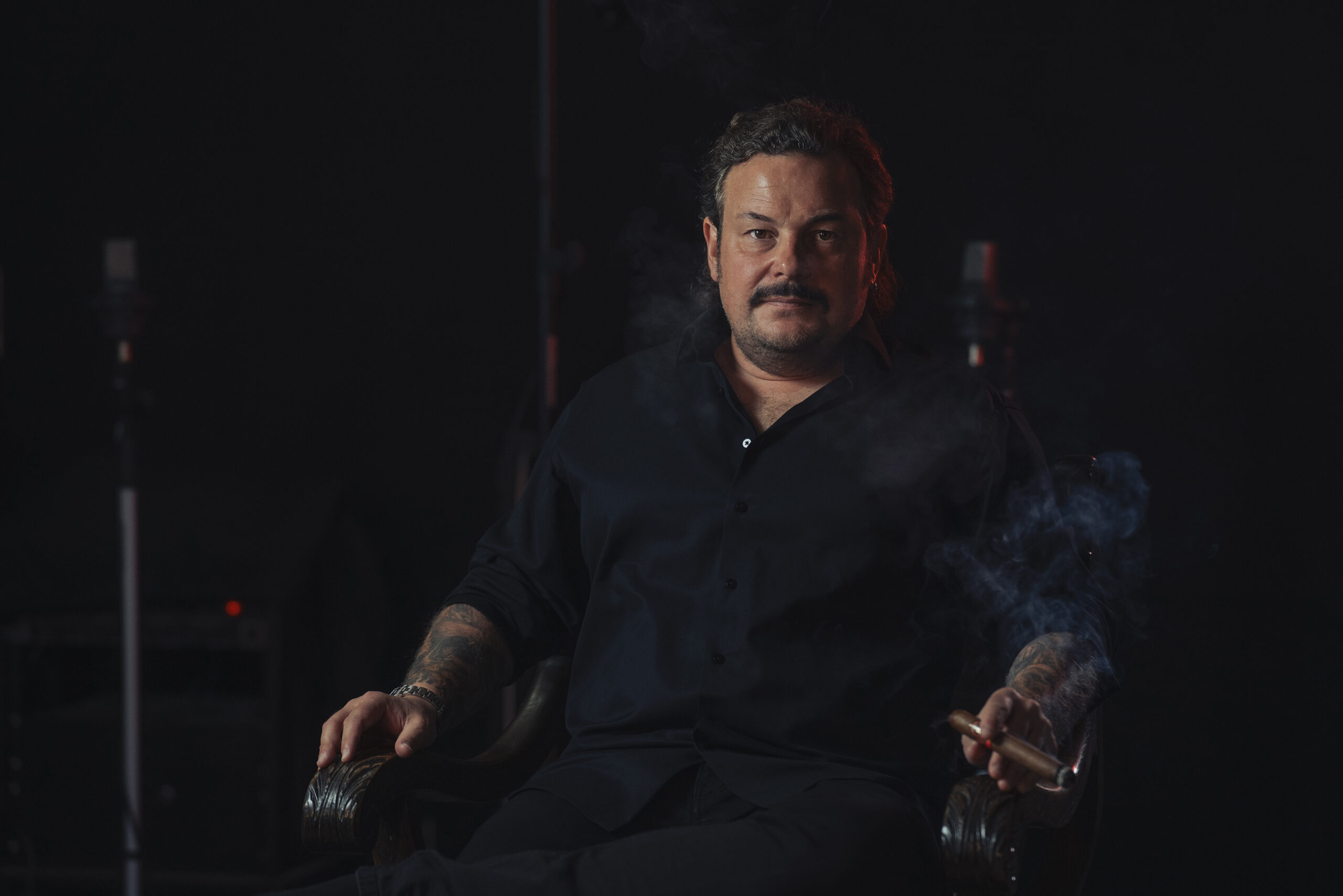 Photo by Lena Angioni
Michael Hvolgaard Andersen (MHA) er en dansk impresario inden for underholdningsbranchen. Født i 1975 og startede sin karriere i musikbranchen i 1991 som 16-årig på drengeværelset i Næstved med at skabe sit første fanzine Emanzipation 'zine på en Amiga 500.
Med dette blad åbnede den internationale musikscene sig for MHA, der tape tradede og sendte breve verdenen over og skaffede sig herved et stort netværk. Alle pengene fra fritidsjobs gik til porto og kopiering af blad og koncertbilletter. CD'er og kassettebånd fik han hurtigt tilsendt gratis fra pladeselskaber. Efter et par udgivelser af føromtalte blad, begyndte MHA sit eget pladeselskab i 1994 og fik i 1995 sit første CVR.nr. Efter et par egne album udgivelser blev MHA tilbudt en international aftale med et større selskab og udsendte derigennem en håndfuld albums der i dag betegnes som klassikere inden for metalgenren. I 1997 etablerede MHA sit eget, nye musikselskab Mighty Music, der siden har været Danmarks største heavy metal selskab (se www.mightymusic.dk) og samme år blev MHA tilbudt en fuldtidsstilling i det svensk/tyske firma Edel Pitch (i dag Playground Music) som label manager for det internationale selskab Roadrunner Records. MHA flyttede fra Næstved til København og arbejdede i en årrække i Bredgade og Dr. Tværgade med de største pop, rock og metal kunstnere i verden, både via fax, e-mail og telefon og når de var i landet. Artister som Tom Jones, Depeche Mode, The Prodigy, Machine Head, Type O Negative, Nickelback m.fl.
I 2003, da musikbranchen fik de første store hug pga. den digitale udvikling, flaskede det sig for MHA og et par venner, således at, de kunne starte eget firma op gøre det til deres levevej. Target Distribution, som mange år senere skiftede navn til Target Group (www.targetgroup.dk) har eksisteret siden og er i dag nok det største danske uafhængige musikselskab med fokus på udgivelse af traditionel musik, i både fysisk og digital form. I starten stod selskabet for salg, distribution og promotion af udenlandske selskabers udgivelser i Danmark. En kunst MHA havde lært hos førnævnte Edel Pitch og efterfølgende selskabet MNW.
Sideløbende med Target Group, så MHA muligheden for at blive salgschef for Bonnier i 2003-2004 inden han blev headhuntet til at blive salgschef for Warner Music i perioden 2004-2007, hvor MHA arbejdede og solgte udgivelser med artister som Madonna, Red Hot Chili Peppers og Eric Clapton og havde tæt dialog med bl.a. Coop og Dansk Supermarked. I 2007 efter at have dobbelt arbejde som selvstændig ejer af Target Group, der nu havde vokset sig til 5 ansatte, valgte MHA at opsige sit job hos Warner for at fokusere 100% på at blive selvstændig i en alder af 31. Samme år eksploderede bandet Volbeat, som Target repræsenterede i Danmark. En lille verden, da MHA og Michael Poulsen fra Volbeat har været venner siden 1991. MHA mødte Poulsen i den slagterbutik MHA arbejdede i, i sin fritid.
Udover at være musikselskab, der udgiver både danske og internationale bands på flere sub-labels, er en del af Target Groups kerneforretning også liveområdet, hvor selskabet står bag flere Musikfestivaler, bl.a. Nordic Noise, der startede i 2013 (www.nordicnoise.dk). Target har desuden fokus på forlagsvirksomhed, hvor der arbejdes professionelt med komponister og forfatters værker internationalt. Der drives en webbutik (www.targetshop.dk) siden 2005, og siden 2014 har Target ejet og stået bag rockbaren Zeppelin Rock Bar (www.zeppelincph.dk) på Vesterbro i København, hvor Target Group også har kontor i dag. I 2022 blev drengedrømmen i form af ekstrem metal-baren Bar Left Hand Path åbnet (www.lefthandpath.dk), ligeledes på Vesterbro.
Target Group har tidligere vundet Gazelle priser, haft et utal af hitliste placeringer, mange radio og streaming hits og i de senere år har selskabet leveret de bedste resultater på bundlinjen nogensinde. Det vidner om at der er fokus og fremtidsvision i virksomheden.
MHA er eneejer af Target Group siden 2019, da medejer Bjarke Ahlstrand valgte at trække sig ud af firmaet for at hellige sig sin passion med kameraer og sit eget firma One Of Many Cameras.
MHA er medejer af Angioni Studios siden 2020 (et indspilnings/pladestudie i Nykøbing Mors sammen med Marco Angioni (www.angionistudios.dk), Næstved Metal ApS, en musikfestival i Næstved (www.naestvedmetalfest.dk) siden 2020, han laver sammen med Lars F Larsen.
MHA var medejer og kunstnerisk leder af spillestedet H9 i perioden 2017-2018 og stifter og medejer af Cannonball Festival fra 2021 til 2023.
MHA er en af nøglefigurerne og "overlevere" inden for den danske musikbranche og har i mange år siddet i bestyrelsen i DUP (Danske Uafhængige Pladeproducenter), er medlem af de to brancheorganisationer IFPI og Musikforlæggerne, en del af Musikbranchens Netværksgruppe og har tidligere siddet i Carl Pris udvalget.
Af uddannelse har MHA gået 10 år i folkeskolen på Lille Næstved Skole, 3 år på Næstved Handelsskole og gennemførte næsten Vordingborg Lærerseminarium, inden han i 1997 blev tilbudt drømmejobbet i musikbranchen i København. Og han har ikke set sig tilbage siden.
Desuden er MHA selv succesfuld aktiv rock/metal musiker siden midt 90erne med et stort CV og bagkatalog.
MHA er gift med Clara, han mødte i 1999 og sammen har de datteren Elizabeth, født i år 2000. Efter 20 dejlige år i Greve, er Elizabeth flyttet hjemmefra og Clara og MHA flyttet til MHA's barndomsby Næstved, hvor MHA i senere år har opbygget et tættere og tættere forhold til både kommune og erhvervsliv grundet sine musikarrangementer i byen.
I 2022 blev MHA optaget i Kraks Blå bog og debuterer selv som forfatter med bogen og selvbiografien "Please Return My Stamps".
MHA Musiker CV
Michael Hvolgaard Andersen er en af de mere indflydelsesrige personer på den danske metalscene. Siden 1993 har han været en aktiv del af både den danske og international scene med tæt på 15 album udgivelser som forsanger, komponist og tekstforfatter. Derudover, kommer en håndfuld EP samt en del singler. De vigtigste orkestre MHA har været og er en del af, er Withering Surface og Thorium. Øvrige bands tæller Empire Drowns, A Sun Traverse, Crawcell samt et par medvirken på udgivelser under synonym.
MHA har spillet over 100 koncerter, bl.a. på festivaler som Roskilde Festival, Wacken Open Air (Tyskland), Nuclear Storm (Tjekkiet), Metal Magic, Brutal Assault (Tjekkiet), Aalborg Metal Festival m.m. Desuden har MHA været på Europa tour som support for Arch Enemy (Sverige) og Opeth (Sverige), Satyricon (Norge), Old Man's Child (Norge), Dimmu Borgir (Norge). For Withering Surface albummet "The Nude Ballet" blev MHA nomineret til Dansk Grammy/DMA.
I 2018 udsendte MHA album "Blasphemy Awakes" med bandet Thorium, der gik ind som nr. 2 på den danske vinyl album hitliste og har modtaget fantastiske anmeldelser fra både dansk og international presse.
I juni 2020 udkom det spritnye album med Withering Surface, det første album fra bandet i 15 år. Til overvældende gode anmeldelser i både ind- og udland, hvilket bl.a. resulterede i en forside på Danmarks største metal-magasin Metalized og en plads som #3 på den officielle danske vinyl hitliste. Bandet blev også booket til bl.a. Copenhell, Metal Magic, Aalborg Metal Festival etc., men alle blev desværre aflyst p.g.a. Corona-pandemien.
I april 2022 udsendes nyt album "Danmark" med Thorium, der går ind på den danske vinyl hitliste som nr. 7 og af internationale medier betegnes som det bedste album fra Thorium i deres 25 årige karriere.
Et nyt album "Exit Plan" med hjertebarnet Withering Surface ser dagens lys snart.
IN ENGLISH:
Michael Hvolgaard Andersen (MHA) is a Danish impresario in the entertainment business. MHA was born in 1975 and started his career in the music industry in 1991 as a 16-year-old in his room in Næstved by creating his first fanzine Emanzipation 'zine on an Amiga 500.
With this magazine, the international music scene opened up to MHA, who tape traded and sent letters around the world, thereby acquiring a large network. All the money from leisure jobs went to postage and copying of magazines and concert tickets. He quickly received CDs and cassette tapes free of charge from record companies. After a couple of publications of the aforementioned magazine, MHA started its own record company in 1994 and in 1995 got his first VAT number. After a couple of own album releases, MHA was offered an international agreement with a larger company and thereby released a handful of albums that today are described as classics in the metal genre. In 1997, MHA established his own, new music company Mighty Music, which has since been Denmark's largest heavy metal company (see www.mightymusic.dk) and the same year MHA was offered a full-time position in the Swedish / German company Edel Pitch (today Playground Music) as label manager for the large international company Roadrunner Records. MHA moved from Næstved to Copenhagen and worked for a number of years in the center of the city with the greatest pop, rock and metal artists in the world, Artists like Tom Jones, Depeche Mode, Machine Head, The Prodigy, Type O Negative and others.
In 2003, when the music industry got its first big hits due to the digital development, it bottled up for MHA and a couple of friends so that they could start their own company up making it their livelihood. Target Distribution, which many years later changed its name to Target Group (www.targetgroup.dk) has existed since and is today probably the largest Danish independent music company with a focus on releasing traditional classic rock and pop music, in both physical and digital form. Initially, the company was responsible for sales, distribution and promotion of foreign companies' releases in Denmark. An art MHA had learned from the aforementioned Edel Pitch and subsequently the company MNW.
Alongside Target Group, MHA saw the opportunity to become Bonnier's sales manager in 2003-2004 before being hired as Warner Music's sales manager in the period 2004-2007, where MHA worked and sold releases with artists such as Madonna, Red Hot Chili Peppers and Eric Clapton and had a close dialogue with the biggest supermarkets and chain stores in Denmark. In 2007, after "double working" as a self-employed owner of Target Group, which had now grown to 5 employees, MHA chose to quit his job at Warner to focus 100% on becoming self-employed at the age of 31. That same year, the band exploded Volbeat, which Target represented in Denmark. A small world, as MHA and Michael Poulsen from Volbeat have been friends since 1991. MHA met Poulsen in the butcher shop MHA worked in, in his spare time.
In addition to being a music company that releases both Danish and international bands on several sub-labels, part of Target Group's core business is also the live scene, where the company is behind several music festivals, including Nordic Noise, which celebrated its 10th anniversary in 2022 (www.nordicnoise.dk). Target also focuses on music publishing, working professionally with composers and authors' works internationally, running an online store (www.targetshop.dk) since 2005, and since 2014 Target has owned and been running the rock bar Zeppelin Rock Bar (www.zeppelincph.dk) at Vesterbro in Copenhagen, where Target Group also has an office today. In 2022 Target expended in the bar business, opening the extreme metal bar Left Hand Path (www.lefthandpath.dk).
MHA is the sole owner of Target Group since 2019 and is also co-owner of the new studio Angioni Studios since 2020 (a recording / record studio in Nykøbing Mors together with Marco Angioni – see www.angionistudios.dk), and Næstved Metal ApS (a festival in Næstved, www.naestvedmetalfest.dk) since 2020 with Lars F. Larsen.
MHA was also co-owner and artistic director of the venue H9 in the period 2017 -2018 and Cannonball Festival from 2021 to 2023.
MHA is one of the key figures (and a few of the "dinosauers" left) in the Danish music industry for the last two decades and has for many years sat on the board of DUP (Danish Independent Record Producers), is a member of the two industry organizations IFPI and Musikforlæggerne, part of the Music Industry Network Group and has been sitting on the Carl Pris committee.
By education, MHA spent 10 years in primary school at Lille Næstved School, 3 years at Næstved Business School and (nearly) completed 4 years at Vordingborg Teachers' Seminary, before in 1997 he was offered the dream job in the music industry in Copenhagen. And he has not looked back since. In addition, MHA has been a successful active rock / metal musician since the mid-90s with a large CV and back catalog. See attached music resume.
MHA is married to Clara, he met in 1999 and together they have the daughter Elizabeth, born in the year 2000. Clara and MHA have been living close to Copenhagen, in the city Greve, for over 20 years, and recently moved back to MHAs hometown, Naestved, where MHA in recent years has built a closer and closer relationship with both the municipality and the business community due to his musical events in the city.
MHAs own musical career:
Michael Hvolgaard Andersen is one of the more influential people on the Danish metal and rock scene. Since 1993, he has been an active part of both the Danish and the international scene with close to 15 album releases as lead singer, composer and lyricist. In addition, he has a handful of EPs as well as quite a few singles under his belt. The two most important orchestras MHA has been a part of are Withering Surface and Thorium. Other bands include A Sun Traverse and Empire Drowns.
MHA has played over 100 concerts, including at festivals such as Roskilde Festival, Wacken Open Air (Germany), Nuclear Storm (Czech Republic), Metal Magic, Brutal Assault (Czech Republic), Aalborg Metal Festival etc. In addition, MHA has been on a Europe tour in support of Arch Enemy (Sweden) and Opeth (Sweden), Satyricon (Norway), Old Man's Child (Norway), Dimmu Borgir (Norway).
For the Withering Surface album "The Nude Ballet" MHA was nominated for the Danish Grammy / DMA.
In 2018, MHA released a new album with the band Thorium, which entered as No. 2 on the Danish vinyl album hit list and has received fantastic reviews from both the Danish and international press.
In June 2020, the new album was released with Withering Surface, the band's first album in 15 years. For overwhelmingly good reviews both at home and abroad, which i.a. resulted in a front page on Denmark's largest metal magazine Metalized and a place as # 3 on the official Danish vinyl hit list. The band was also booked for i.a. Copenhell, Metal Magic, Aalborg Metal Festival etc., but all were unfortunately canceled due to the Corana pandemic. The festivals are happening in 2022 instead.
MHA released a new album "Danmark" in April 2022 with Thorium that entered #7 on the Danish vinyl chart and has been praised in international reviews as the best album of the band in their 25-year career. Next up is a new studio album with Withering Surface.