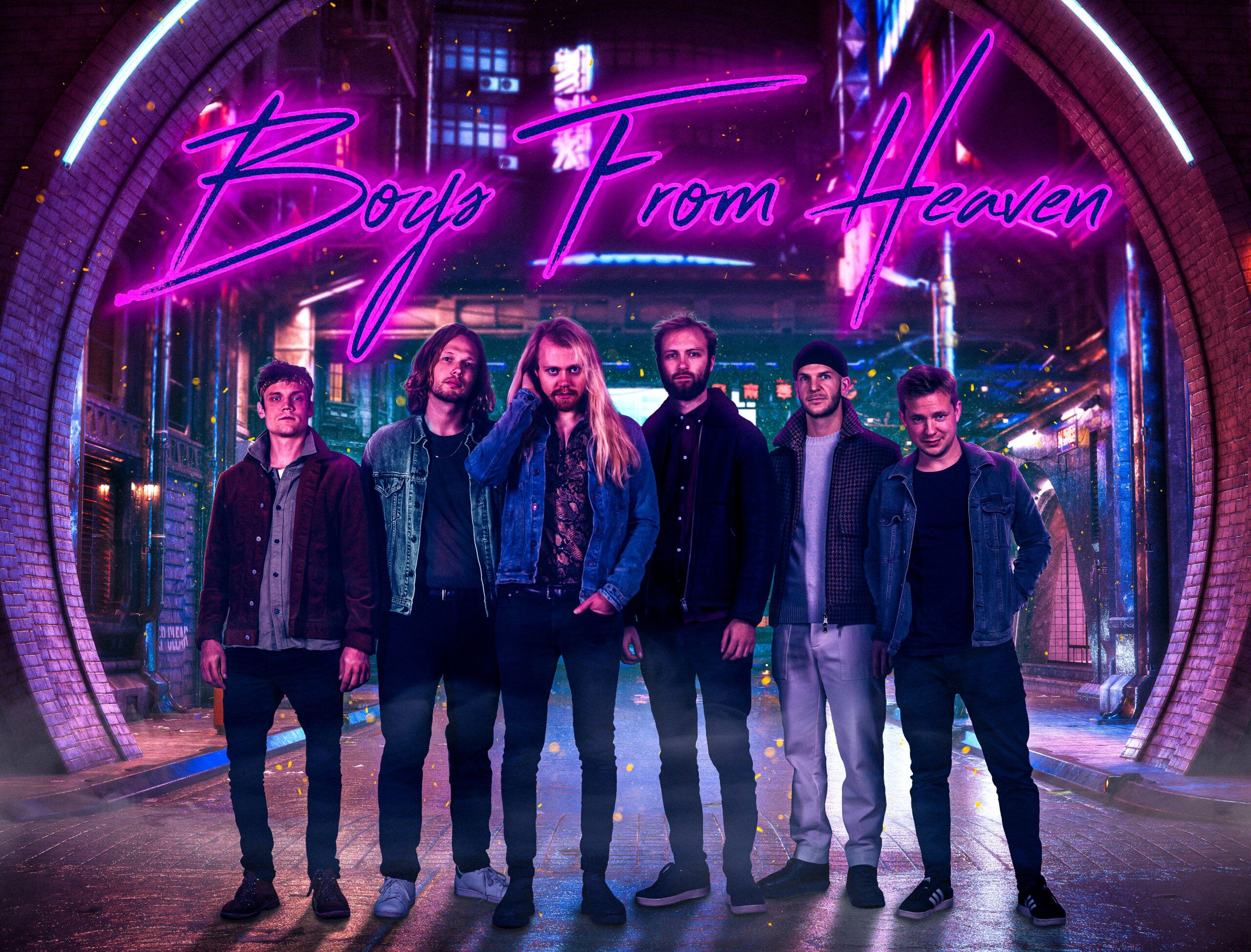 The spirit of the great eighties, captured in the modern studio. That is the essence of Danish rock group Boys From Heaven. The band, captivated by the sound of the late seventies and early eighties – with stadium rockers like Toto and Journey -write, record and perform epic and grandiose rock music featuring the likes of lush vocal harmonies, wide piano and synth hooks, fiery guitar solos and an oh-so-smooth alto saxophone.

Boys From Heaven's inspiration is not just confined to the era of reverb and Ray Bans. Traces of the classic rock sound, pioneered by bands like The Who, are also present in the septet's signature song DNA.

The release of their 2017 EP No Way! But Anyway put Boys From Heaven on the map, and in the two years that have followed since the band has gone on to perform at several well-established venues and festivals, such as Musikhuset Posten in Odense and Kløften Festival in Haderslev, as well as the one day festival Skodborg Parkrock, with over 3.000 festivalgoers. Here the band performed alongside several famous artists, among others Danish rock giants Gnags. The band also made it to the final of the TAK ROCK Band Battle 2018, held at the esteemed DR Concert House in Copenhagen.


In 2020 Boys From Heaven signed on with Target Records, who will release the band's debut album "The Great Discovery". This time, the band decided to produce the album themselves, with lead vocalist Chris Catton spearheading the process as mixing engineer. The results speak for itself: the band has created a sound with the audacity of a record written in the 1980's, and the punch of an album produced in 2019.
In 2023 they announced a new album, titled "The Descendant". The group, though still faithful to the 80's AOR universe, have found greater inspiration in a more atmospheric sound, where dreamy pads, punchy synthesizers and drum machines are blended with the band's organic and authentic sound. 

All musical elements have been meticulously crafted in this incredibly detailed production, which is mixed and mastered by Erik Martensson (Eclipse, Ammunition, etc.).

On "The Descendant", Boys From Heaven present the sonic equivalent of cruising back to the future, straight to the arcade hall, on to the drive-in cinema, and back home to mend a broken heart. 
Boys From Heaven is the best of both worlds: whimsical and witty, yet technically skilled. Rock'n'roll, yet soft and soulful.