[bs_collapse]
[bs_collapse_item title="English" active="not_active"]N/A[/bs_collapse_item]
[bs_collapse_item title="Danish" active="active"]
HATESPHERE har i de sidste mange år siddet tungt på thrash-metal tronen i Danmark og har gjort sig internationalt bemærket i både Europa, USA, Japan og ikke mindst Kina hvor de turnérede som det første danske band. Nu står de klar med deres ottende studiealbum "Murderlust", der følger op på det to år gamle 'The Great Bludgeoning'. Bandet, der må betegnes som værende et af Danmarks største metalbands, bakker udgivelsen op med en europæisk turné i efteråret.
Sangskrivningen til albummet startede sent i 2012, og i maj 2013 indtog bandet Antfarm Studio for at indspille deres seneste mesterværk med producer Tue Madsen.
Hatesphere har igen allieret sig med Mnemic-guitarist Mircea Gabriel Eftemie til design af albumcover. Mircea var blandt andet manden bag artworket til to af bandets tidligere udgivelser, nemlig "The Great Bludgeoning" og "Ballet of the Brute".
På "Murderlyst" bliver man som lytter bekendt med bandets alsidighed. Foruden de typiske thrash-metal toner, vil man også kunne høre heavy- og rock-inspirerede, såvel som langsomme og atmosfæriske sange!
"Murderlust" udkommer i Danmark d. 30. september via Massacre Records/Target Distribution.
Til efteråret kaster HATESPHERE sig ud i deres første europæiske turné med de svenske dødsmestre i Hypocrisy!
Samtlige tour-datoer kan ses nederst.
HATESPHERE
Murderlust
Release: 30-09-13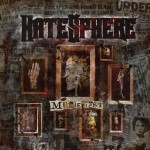 Den komplette trackliste til "Murderlust", som også udkommer i en særlig limited edition digipak med eksklusive bonusnumre, ser således ud:
1. Murderlust
2. Pandora's Hell
3. Fear Me
4. The Violent Act
5. Punishable By Death
6. In Process
7. Iconoclast
8. Darkest Of Forces
9. Refill The Chest
10. Assassin
Digipak bonusnumre:
11. Murderlust (Pre-produktion)
12. 500 Dead People (Live)
HATESPHERE live:
07.09.2013 DE Greven – Backyard Festival – www.facebook.com/events/1817192331752831
14.12.2013 DE Lingen – Alter Schlachthof – www.facebook.com/events/148447918686742
20.12.2013 DK Copenhagen – BETA – www.facebook.com/events/194766564023867
21.12.2013 DK Aarhus – Fatter Eskil – www.facebook.com/events/1400353076850778
End Of Disclosure Tour 2013 (Part 2)
w/ Hypocrisy, HATESPHERE
15.09.2013 EE Tallinn – Rockclub Tapper – www.facebook.com/events/200440913453786
16.09.2013 LV Riga – Melna Piektdiena – www.facebook.com/events/267662653376196
17.09.2013 LT Vilnius – New York Club – www.facebook.com/events/691162797577014
18.09.2013 BY Minsk – Club Re:public – www.facebook.com/events/536744019726860
19.09.2013 UA Kiev – Bingo Club – www.facebook.com/events/534838419897916
21.09.2013 RO Bucharest – Arenele Romane (Metalhead Meeting) – www.facebook.com/events/185726444935433
22.09.2013 BG Sofia – Mixtape 5 – www.facebook.com/events/219295151555791
23.09.2013 RS Belgrade – Dom Omladine – www.facebook.com/events/186341054874824
24.09.2013 HR Zagreb – Tvornica Kulture – www.facebook.com/events/1404589916421085
25.09.2013 IT Brescia – Circolo Colony – www.facebook.com/events/434502520000212
26.09.2013 FR La Valette-du-Var (near Toulon) – Le Vox – www.facebook.com/events/511687882235756
27.09.2013 ES Barcelona – Salamandra 1 – www.facebook.com/events/200173623479559
28.09.2013 ES Madrid – Sala Arena – www.facebook.com/events/624362600931094
29.09.2013 PT Lisboa – Paradise Garage – www.facebook.com/events/556600121066985
30.09.2013 PT Porto – Hard Club – www.facebook.com/events/691162797577014
01.10.2013 ES Bilbao – Santana 27 – www.facebook.com/events/607095042664692
04.10.2013 DE Würzburg – Posthalle (Hell Inside Festival) – www.facebook.com/events/296935950445971
05.10.2013 CZ Zlin – Masters Of Rock Café – www.facebook.com/events/409766815807875
www.facebook.com/hatesphere666
www.twitter.com/hatesphereband
www.youtube.com/hatesphereofficial
[/bs_collapse_item]
[/bs_collapse]