[bs_collapse]
[bs_collapse_item title="English" active="not_active"]N/A[/bs_collapse_item]
[bs_collapse_item title="Danish" active="active"]
Rockabilly Heart Tamra Rosanes – Den Skaldede Kok – Morten Wittrock
–
–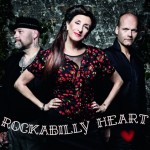 –
–
Danmarks countrydronning Tamra Rosanes og den ukronede konge af kontrabas og kogebøger, Olsen – Den Skaldede Kok, har sammen med Danmarks dygtigste rock'n' roll pianist, Morten Wittrock, skabt Rockabilly Heart. Det selvbetitlede Debutalbummet udkommer d. 4 november og kommer til at indeholde nogle af rockabilly- og rock 'n' roll-genrens allerstørste hits.
De tre er netop hjemvendt fra en længere inspirationstur til rockabillys fødested og nuværende mekka, Memphis, Tennessee. Det blev til et visit i Sun Studios hvor stjerner som Johnny Cash, Elvis Presley og Jerry Lee Lewis startede deres karrierer. Tamra indspillede i den forbindelse en duet med den tidligere sangskriver og producer for Johnny Cash – Cowboy Jack Clement – som samtidig fungerede som tekniker i Sun Studios. Rockabilly Heart var derudover i studiet i Nashville med saxofonisten Jim Hoke, mundharpe-legenden Charlie McCoy og Garth Brooks guitaristen Chris Leuzinger. Under danske himmelstrøg har bl.a. Jens Runge samt Shubiduas Claus Asmussen og Peter Andersen bidraget til den kommende plade.
Tamra Rosanes kommer med et hav af guld- og platinplader, en Danish Music Award, samt en nyligt udgivet opsamlingsplade i forbindelse med hendes 40 års jubilæum. Hun sang country-genren til Danmark som blot 20-årig og har siden også taget initiativ til super-trioen Cowgirls, som hun dannede med Sanne Salomonsen og Lis Sørensen. Når Olsen – Den Skaldede Kok – ikke står bag gryderne, er TV-kok eller foredragsholder, har han haft travlt med sine to bands The Midnight Blues og Rock It. Olsen og Wittrock udgav i 2011, Rock Its støtteplade "Rock It at Christmas". Det foregik i samarbejde med blandt andre Mike Tramp, Kjeld Heick, Simon Jul og Alex Nyborg Madsen. Morten Wittrock har gennem tiden produceret og indspillet et væld af plader i både Danmark og USA, hvor hans seneste udgivelse med Jes Holtsø fik en Danish Music Award nominering, & prisen Årets Danske Blues Navn. Han har derudover været fast mand bag klaveret hos Amin Jensen og i Wittrock Band.
Rockabilly Hearts udkommer via Target Group d. 4. november.
Tracklist:
01.   Rockabilly Girl
02.   Great Balls Of Fire
03.   My babe
04.   Rock You Baby
05.   K-I-S-S
06.   Be Bop A Lula
07.   Don't Be Cruel
08.   It'll Be Mine
09.   Maybelline
10.   Rockabilly Heart
11.   Rockabilly Fever
12.   Rock The Night Away
13.   Salty Dog Blues
14.   Shake Rattle And Roll
15.   The Stroll
16.   Tutti Frutti
[/bs_collapse_item]
[/bs_collapse]