Så er det idag at Annisette og The Savage Rose udgiver albummet "Roots of the Wasteland" – et album som Politiken har taget imod med kyshånd og 5 hjerter.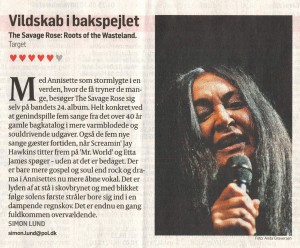 Bandet spiller helt eksklusivt nogle numre fra albummet i Politikens Boghal kl. 17 idag. Kig forbi, der er gratis entré!
Efterfølgende er der pladereception på Zeppelin Bar Cafe Venue (Vesterbro Torv) fra kl. 20.00 hvor CD og LP kan erhverves og man desuden kan få en personlig signatur.
Få mere info på event-siden her: Facebook event 
iTunes link
Targetshop (CD) link 
Targetshop (LP) link