Only a year after the comeback album "From Hell and Back" the Swedish hard rock band KILLER BEE are ready with their fifth studio album "Evolutionary Children"!
On a rampage through the 90's with the release of three albums, five singles and as many videos, KILLER BEE showed at that time that traditional hard rock of the truest kind never dies. Their bullheaded approach and 'never say die' attitude brought them from the Red Square in Moscow to some of the biggest festivals in Europe, and the third album "World Order Revolution" even had the legendary Kee Marcello (ex- Europe) on guitars!
Unfortunately destiny intervened. Management disputes, production company rip-offs, basic music biz crap left the band with a bitter taste in their mouths. KILLER BEE took a break, a break that would last 15 years and refuel the engines that propelled the band into action back then… Well, now they're back, hungry and steadfast!
KILLER BEE released the compilation album "Almost There" in 2011, a self-proclaimed salute to days gone by. This lead to an unexpected but true realization – they had been missed after 15 years of absence. The songwriting team of Anders "LA" Rönnblom and Brian "Bee" Frank went to work and a new album was conceived.
In October 2012 the comeback album with the suitably title "From Hell and Back" was released and got positive responses from both fans and critics; "The Killer Bee pack return to fine shape after years of dormant behavior to raise your fist and kick your face in with killer grooves and arena rock anthems." (My Global Mind)
Only a year after, the productive KILLER BEES are back with their fifth studio album "Evolutionary Children" showing that they still have what it takes to push the buttons showing that their style of unadulterated rock never died… and never will.
"Evolutionary Children" will be released in all of Europe October 14th by Target Distribution.
Check out the album teaser here.
KILLER BEE
Evolutionary Children
Release: October 14th 2013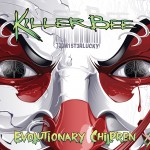 Track list:
01. Children Of The Evolution
02. A Little Too Old
03. All The Things You Say
04. Let's Dance
05. Now's The Time
06. Ride On
07. Got Your Number
08. Dust Of An Angel
09. I'm On Fire
10. Gimme A Taste
11. Maybe Baby
12. Scream It
13. If We Die Tomorrow
www.killerbee.se
www.facebook.com/OfficialKillerBee