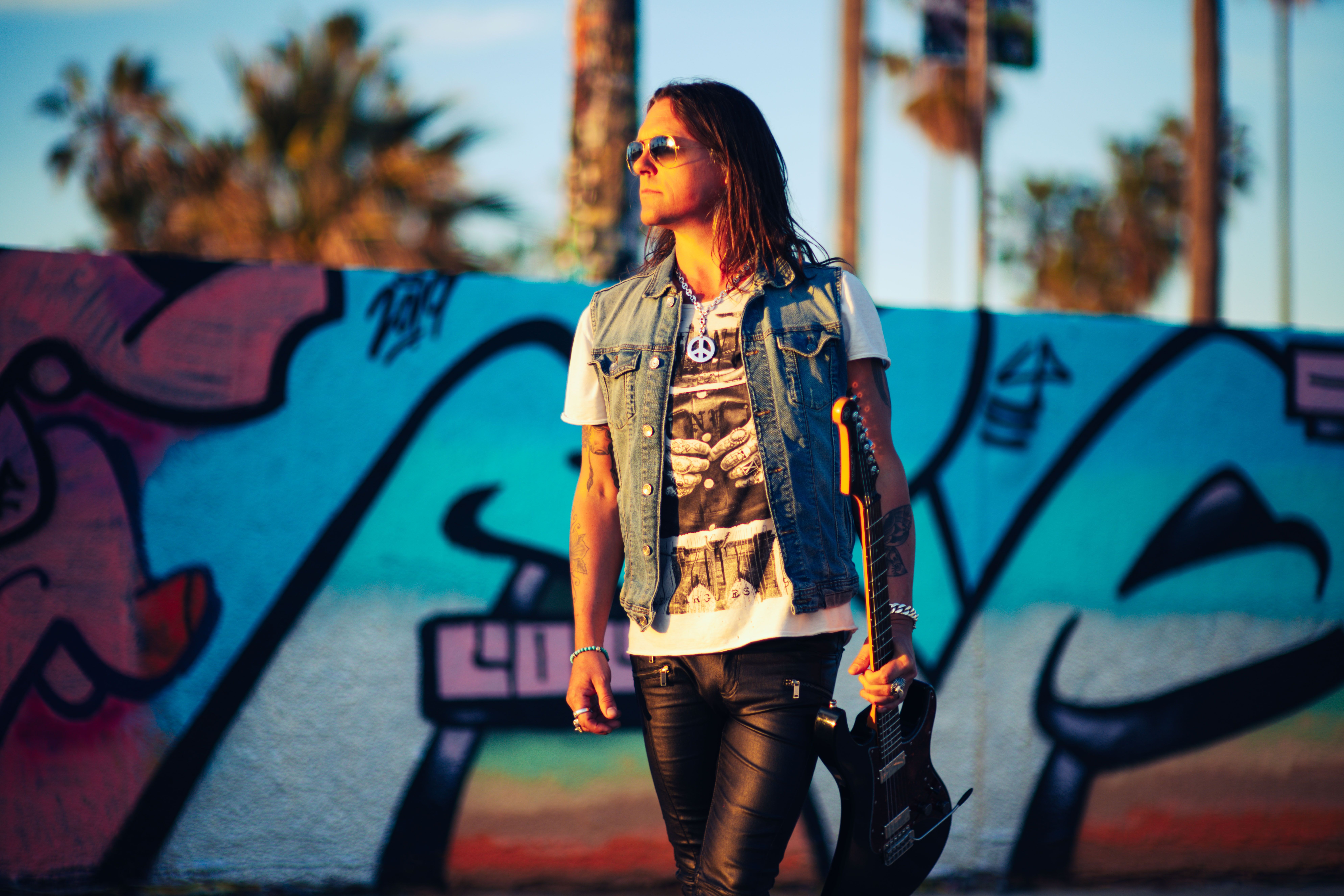 Soren Andersen
Så er den gal igen med Søren Andersen.
Den danske guitarist får den ene tossede ide efter den anden, men på en eller anden måde får han ført dem ud i livet med succes. Nu er turen kommet til noget så umoderne som en instrumental guitarplade i bedste Joe Satriani/Steve Vai-stil.
– Ja, jeg ved det godt, siger Søren Andersen og slår blikket ned.
– Men hvad skal jeg gøre??, tilføjer han undskyldende.
Altså, han kunne jo sådan set bare lade være … men hvorfor egentlig undskylde, at man er rasende dygtig til at spille guitar.
Faktisk er han så dygtig, at han fortsat turnerer verden med Deep Purple-sangeren Glenn Hughes og spiller riffs, licks og soloer til de gamle klassikere og også er at finde på Glenn Hughes-soloplade 'Resonate' som guitarist og coproducer. Og det har selveste Joe Satriani himself bemærket. Sådan sagde han tidligere på året til musiksitet Music Aficinado:
"I've been listening to this record a lot. The songs go by and I go, "Wow, listen to that!" This guitarist is somebody I don't know who's also the co-producer, Soren Andersen, and man, he's so good. It's always cool when you hear somebody new who really impresses you. […] A guy like Soren Andersen is totally into the future. His playing is very natural-sounding, and he manages to perform to the songs while still putting in some crazy textures. His choice of notes is interesting—every time I put the record on, I go, "Hey, I didn't hear that before." I love when an album does that to me. Glenn has always played with great guitarists, and he's got another one with Soren Andersen."
Ja, wow! Det er flotte ord.
– Jo jo, men nu er jeg jo karriere mæssigt ikke i nærheden af Joe Satriani, siger Søren Andersen forholdsvis beskedent.
Men da han som teenager sad i klasseværelset og tegnede Marshall-forstærkere i matematik-hæfterne, var der alligevel en lille Joe Satriani-djævel, der prikkede ham på skulderen.
– Det her er et livsprojekt. Jeg har altid haft den her type plade i mig. Jeg ved godt, det ikke er særlig hipt, men nu skal den bare ud. Faktisk var det soundtracket til 'Stranger Things' med al dens 80'er-musik, der skubbede til mig. Det er min hyldest til en periode i 80'erne med Topgun og Miami Vice. Det er mere den slags temaer, end det er pral. Men alle mine 26 bedste tricks er med på pladen, siger den 47-årige guitarhelt om albummet, der har fået titlen 'Guilty Pleasure'.
– Det er gået op for mig, at jeg efterhånden har et lille navn derude i verden, og jeg oplever ofte, at der står folk efter koncerterne og efterlyser musik fra mig. Så nu får de det fandme! Jeg kan mærke, at det er det rigtige at gøre, og jeg har modtaget masser af kærlighed til projektet, siger Søren Andersen.
Med på pladen er der fornemme navne som Red Hot Chili Peppers-trommeslageren Chad Smith, bassisterne Ida Nielsen og Marco Mendoza, Glenn Hughes – naturligvis – og andre kendte samarbejdspartnere herhjemmefra som Morten Hellborn, Michael Gersdorff Kristensen, Marcus Linnet og Simona Abdallah.
'Guilty Pleasure' udkommer til efteråret, men allerede nu kan man høre singlen 'City of Angels', hvortil videoen er skudt i netop Los Angeles, som nummeret er opkaldt efter.
WEB
Facebook