Negash Ali klar til at præsentere sit bedste materiale til dato
[bs_collapse]
[bs_collapse_item title="Danish" active="active"]
Den 23 årige  wonderkid Negash Ali er et af dansk musiks diamanter. Med et CV der tæller 3 studiealbums (Majors, Asmarino, GettoPop) og som co-writer på sange for Chris Brown, Jadakiss, Bob Sinclair er Negash Ali en mand med verden for sine fødder. Nu er han klar med sin EP "The African Dream". 
[spacer height="20px"]
Negash Alis store gennembrud i dansk musik kom med Majors projektet, der udover Negash talte sværvægterne i dansk hiphop Dj Static og Dj Noize. Albummet vakte stor genklang i Danmark og resten af Europa hvor Negash bl.a. optrådte på Roskilde Festival, og Europas største hiphopfestivaler Splash og Hip Hop Kemp. Hans første selvstændige udgivelse "Asmarino" havde sin sejrsgang hos anmelderne og Negash opnåede også kommerciel succes med debuten. Derfra er det kun gået en vej for en af dansk musiks største talenter: Fremad.
Negash har udover sin egen solokarriere komponeret sange for internationalt anerkendte artister, bl.a. for Jadakiss 1. single "Get Twisted" der er en duet med Chris Brown. Han arbejder i disse dage med artister som Bob Sinclair, Outlandish og mange flere. Negash flyttede til London i Maj 2013 for at forfølge drømmen om et internationalt gennembrud. På et halvt år har han formået at skabe sin egen base med eget pladeselskab (10ThousandMusic), han blev udvalgt som "New Breakthrough Act" af CapitalXtra (UK's største Urban radiostation), han har optrådt på den prestigefyldte festival, Lovebox, og spillet 15 shows i UK, heriblandt et udsolgt show sammen med superstjernen The-Dream, der bl.a.  har skrevet Rihanna's "Umbrella"  og "Holy Grail" for Jay-Z & Justin Timberlake.
Negash Alis 1. single "Fire In The Sky" er allerede blevet præsenteret for de engelske radio og TV-stationer hvor BBC og MTV har ham i fast rotation, og udpeger ham som en artist man skal holde øje med i 2014.
Den 1. single "Fire In The Sky" er forløberen for den nye EP "The African Dream". Ifølge Negash er det med afstand det bedste der er kommet fra hans hånd. Om EP'ens titel udtaler Negash Ali:
[spacer height="20px"]
"Konceptet "The African Dream" beskæftiger sig med hvad det vil sige at vokse op i blandt skarpe kontraster; et traditionelt muslimsk hjem og en progressiv vestlig verden. Tilstedeværelsen af ikke rigtigt at føle sig hjemme hvor man kommer fra, og heller ikke hvor man er. Man er i stedet blevet en dynamik af de stærke modsætninger.
EP'en spænder dog vidt og berører mange emner som personlige kampe, kærlighed, frustration, og relationer til familien etc."
[spacer height="20px"]
"The African Dream" udkommer via Target Group d. 17. februar.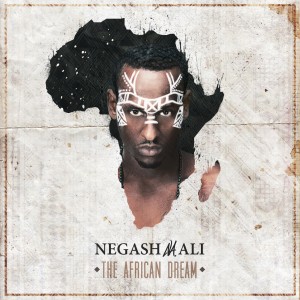 Trackliste:
01. African Dream
02. Fire In The Sky
03. Outlaw
04. What You Got
[/bs_collapse_item]
[/bs_collapse]
[spacer height="20px"]