Laurits Emanuel releasefest til Target Show Off
For anden gang i år inviterer Target Records til Target Show Off koncert. Begivenheden vil løbe af stablen den 11. juni på PH Caféen på Halmtorvet i København, hvor vi denne aften også slår dørene op for Laurits Emanuels releasefest. En festlig fejring af hans andet album "Midlertidig Mening", som udkommer dagen efter nemlig den 12. juni på Target Records. Til Target Show Off eventet kan man erhverve sig albumet på vinyl til sølle 100,- mod fremvisning af aftenens billet.
Albumet byder på originale melodier og et kærkomment gensyn med saxofonsoloen, twinguitaren og 70'er­koret. Sangene er dugfriske, men skuer samtidigt bagud og reflekterer over tidens gang. Teksterne er tydeligt inspireret af de danske sprogmestre som Sebastian og Søren Kragh­ Jacobsen og lyden har rødder i den flamboyante rock fra Roxy Music og Queen. Med "Midlertidig Mening" får vi serveret et at årets mest originale danske popalbums som både inviterer til fest og fordybelse.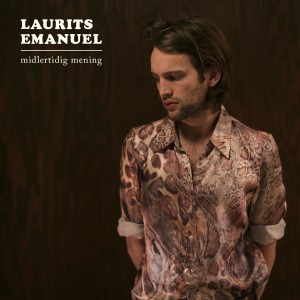 "Først da vi stod i studiet stod det mig klart hvor mange retninger "Midlertidig Mening" egentlig ville skyde i. Det er lykkedes os at gøre det til pladens klare styrke. Denne udgivelse indeholder kort og godt de bedste sange jeg endnu har skrevet." – Laurits Emanuel

Laurits Emanuel har været meget aktiv som både musiker og scene­kunstner. Ved siden af sin solokarriere er han også en del af folkpop bandet The Grenadines, og han har ageret kapelmester og komponist i en række teateropsætninger. Senest i "Syngepigerne" på Nørrebro Teater.

1. Singlen "Den første sol i sprækkerne" er allerede ude og er røget i fast rotation på P4. Til sangen er der lavet en stemningsfyldt musikvideo fyldt med forårsfornemmelser, fest og farver. Tjek den ud her:
Til eventet præsenterer vi derudover 4 dygtige kunstnere fra den spirende danske musikscene. Se programmet og læs om kunstnerne nedenfor:
Kl. 20:00 HOFF:
HOFF er et nyt soloprojekt af 28årige Rasmus Hoff, hans mørke og melodiske univers er skrevet og komponeret i hans øvelokale på Nørrebro. Lyden emmer af tunge beats, pumpende synth og melankolske hooks, som giver musikken en nærmest filmisk dimension.
Kl. 20:45 
JÆRV
:
Kunstnernavnet JÆRV dækker over sangerinden og sangskriveren Amanda Glindvad, som igennem dette projekt laver dansksproget popmusik med klare inspirationsreferencer til hiphoppens beats og elektronicaens lydflader bundet sammen af en karakteristisk vokal. Lyrisk set beretter JÆRV om hendes personlige fortællinger malet til med let abstrakte metaforer.
Kl. 20:45 
Martin Buster
:
Sangskriveren Martin Buster gør sig bemærket gennem sin varme udstråling og sit fængende tekstforfatteri. På hans kommende EP har han indledt et samarbejde med branchens velkendte producer Turkman Souljah. Sammen kreerer de et lydbillede spækket med funkede toner og en dybtfølt stemning. Til Show Off eventet har Martin Buster lovet en fest, når han indtager scenen akkompagneret af hans faste band.
Kl. 22:15 
Dobbeltsyn
:
Den dansksprogede, elektroniske R'n'B duo Dobbeltsyn består af to garvede gutter fra musikbranchen, som har fundet en fælles vej for deres musik. De skriver om tåge, kanter, illusioner, blændende lys det hele med afsæt i kærlighed. Deres lyd er melankolsk, dyster og utrolig fængende.
Kl. 23:15 Laurits Emanuel:
På sit andet album byder Laurits Emanuel op til dans med hans originale melodier og et kærkommet gensyn med saxofonsoloen, twinguitaren og 70'er koret. Albummet er friskt og tidssvarende, men samtidig malet med klare inspirationer fundet hos de lyriske mestre Søren Kragh-Jacobsen og Sebastian. Med teksterne viser Laurits kreativ dybde og en kæk tone, som med sikkerhed får enhver til at trække på smilebåndet. Hans andet album ''Midlertidig Mening'' udkommer 19/6 og Target Show Off fungerer derfor som Laurits Emanuels officielle releasefest.
Vi lover med sikkerhed en festlig aften i musikkens tegn. Ses vi?