Kompromisløst Machinery Of Joy album lander i november
[bs_collapse]
[bs_collapse_item title="English" active="not_active"]N/A[/bs_collapse_item]
[bs_collapse_item title="Danish" active="active"]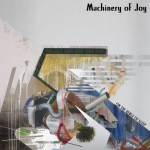 Kontant og dystopisk debut album fra Københavner kvartetten
Mens natten banker på, spiller Machinery of Joy sig ind i både dine drømme og dine mareridt.
Vover du pelsen og følger slangekvinden gennem det fordrejede, alternative univers, får du fornøjelsen af at lytte til dystre, fængslende toner garneret med støjflader og fremdrivende beats.
Machinery of Joy henter overvejende inspiration fra støjrock, krautrock og industrial, men holder samtidig et konstant fokus på det melodiske. Forsanger Laura Noszczyk veksler mellem dybe toner og svævende, lyse vokalstykker, så både himmel og hav bliver tilgodeset.
Genrer som mørk psychedelia, elektronisk, drone og shoegazer er dog heller ikke helt ukendte for Machinery Of Joy  – en blanding der bestemt ikke er hverdag på den danske scene. Generelt er det svært at sætte Machinery Of Joy i bås, hvilket de heller ikke ønsker. Det atmosfæriske udtryk fra tidligere bands som Decorate Decorate og Yellowish fornægter sig ikke, men det langt mere kompromisløse udtryk gør dem til et af de absolut mere unikke bands i Danmark.
Inspirationen til bandnavnet er hentet fra litteraturens verden, nærmere bestemt fra Ray Bradburys fremtidsfortællinger, og teksternes omdrejningspunkter er de udfordringer, gentagelser og modsætninger som livet byder os, både som enkeltpersoner og som menneskehed i det hele taget. Fortidens skygger flettes sammen med mulige fremtidsscenarier; der balanceres mellem det gode og det onde, og svævende, diffuse fragmenter sættes sammen til en helhed.
BIO:
Machinery of Joy blev dannet i 2010, hvor Jan Kromann og Laura Noszczyk, (tidligere Decorate Decorate, Yellowish og Demons Are Real) besluttede sig for at lave et fælles projekt. Efter at have forsøgt med forskellige guitarister og trommeslagere, endte det med at Kenni Møller og sidenhen Dennis Nicolaisen blev en fast del af bandet.
I 2011 udgav Machinery of Joy en selvbetitlet og anmelderrost digital ep. EP'en blev givet fri til gratis download, og blev brugt til at skaffe spillejobs, herunder koncerter på flere spillesteder og festivaler i hele landet. Publikum går fra koncerterne med en berigende oplevelse af at have set et band med personlighed give sig helt hen til stemningen.
I foråret 2013 var Machinery of Joy i Aarhus Lydstudie og indspille et fuldlængde album med Peter Fjordbak som producer.
Resultatet er nu blevet til "On The Verge Of Sleep". 7 pulserende og særdeles stemningsmættede numre, der uden tvivl er et af de stærkeste eksperimenterende udspil fra Danmark i lang tid.
Koncerter:
KB18, København, 8. november
Recession Festival, Århus, 16. november
"On The Verge Of Sleep" udkommer d. 18. november via Target Group
[/bs_collapse_item]
[/bs_collapse]