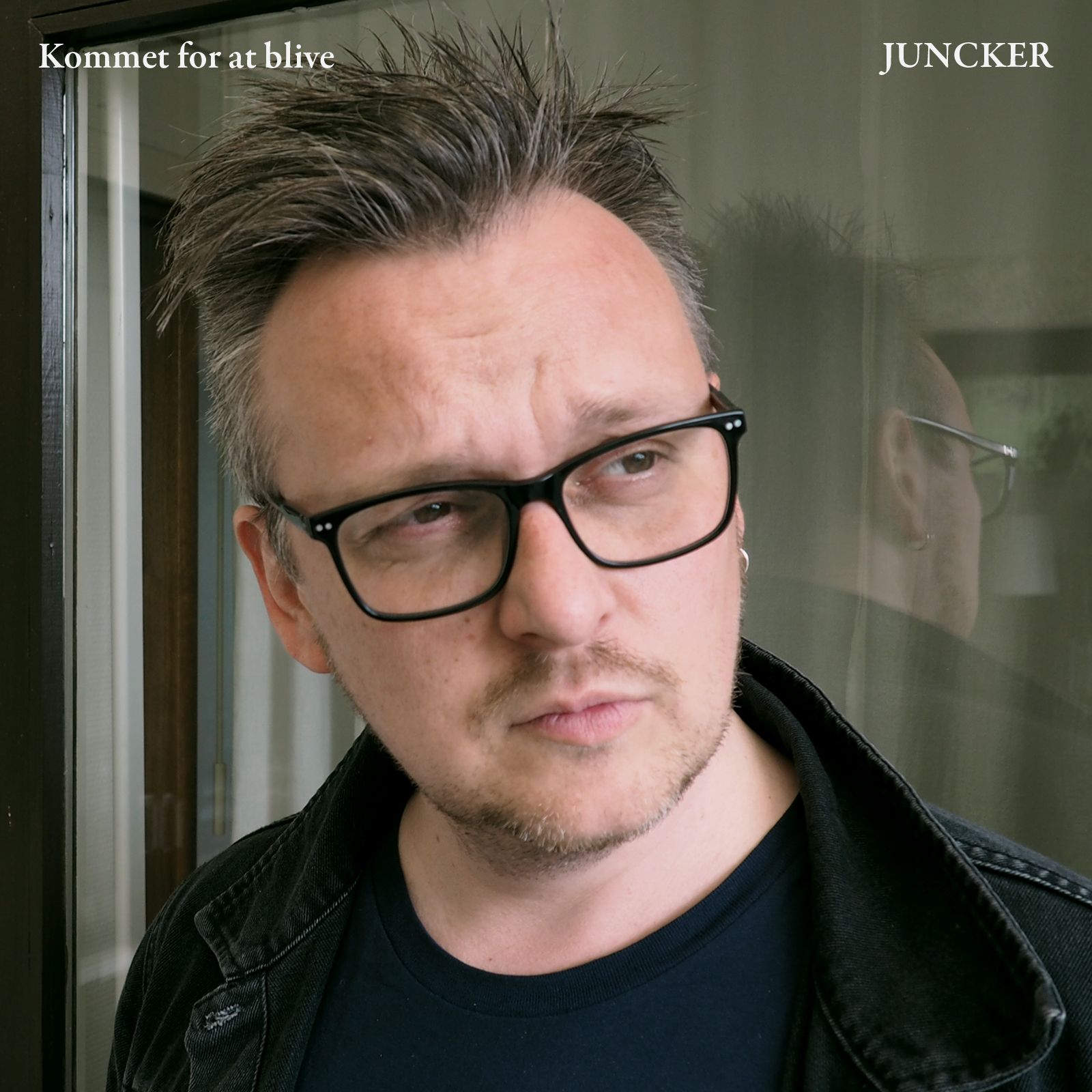 Juncker – Kommet For At Blive (single)
Release date: 10. februar 2022
"Sangen handler om flere ting, i hvert fald for mig. Kort sagt: Keep it real!  
Egentlig ville jeg helst undgå at udpensle det for meget, for sange skal leve deres eget liv i lytterens hoved, som den her egentlig har gjort i mit eget fra starten af. Den har været længe undervejs, og den er ligesom blevet ved med at syde under huden i årevis og har bare langsomt taget sin form, uden jeg har styret den direkte mod et bevidst handlingsforløb.  
Den har skrevet sig selv langsomt, og jeg har ikke altid selv vidst, hvad den egentlig handlede om, hvilket egentlig er lidt nyt og udfordrende for mig selv, idet jeg plejer at have en mere stram styring af mit tekstindhold. I en periode troede jeg ligefrem, sangen skulle være en slags hyldest til mit idol Robert Smith (The Cure), hvorfor der også stadig er referencer til inspirationen fra det univers: "Jeg dypper min mund i din læbestift" – "Why Can´t I Be You"?  
Det føltes bare rigtigt at skrive en medrivende og knap så intellektualiseret tekst i dette tilfælde, og sangtekster er jo ikke digte – nogle gange er lyden af ordene nok. Nogle gange opstår der ligefrem en merbetydning dér i sprækken mellem musik og sprog. Og netop lysten til at stemple ind med en sang båret af en følelse fremfor en direkte tekstlig pointe eller dagsorden, giver god mening, i denne sammenhæng, for det jeg bedst kan lide ved Melodi Grand Prix, er nu en gang den gode "frie" sang, som ikke er låst af eksempelvis en politisk dagsorden, men snarere rummer noget, som kan samle os alle. 
For det er med denne sang som i så mange andre sider af livet sådan, at tør man give slip på sig selv, være til stede, vælge til og satse lidt nærvær af den ufiltrerede slags, så kommer man tit længst i sine relationer. Og det fører mig til titlen "Kommet for at blive", hvor alt dette er omsat til et scenarie i et kærlighedsforhold, som nødvendigvis må koste 100%, aldrig mindre, inklusiv alt det, du ikke kan kontrollere, ikke mindst i en tid, hvor kontrol, mål, strategier og krav fylder virkelig meget og let bliver til forbehold og fravær. Man kan selvfølgelig låne små spejl af sin udkårne og andre inspirerende mennesker og nok gøre dem til sine egne, og måske ligefrem have et brændende ønske om at være en anden eller opnå en form for tosomhed. 
Dette er en uforbeholden sang om at give slip, sige ja til hinanden, friheden og modet til at være lige nøjagtig den, man er over alt for at kunne være til stede præcis så meget, som jeg personligt ønsker at være det i årets Grand Prix. For man skal gribe de chancer, livet nu engang byder på – en chance mange forpasser af frygt, fordi eksempelvis prinsen på den hvide hest ikke lige havde det rigtige hår på første date eller, fordi Melodi Grand Prix, for den sags skyld, kan have en farlig klang for nogen.  
Og i forlængelse af mit netop overståede 25 års jubilæum markerer titlen og teksten også nogle basale værdier i min måde at møde verden på, som jeg tror har sikret mig en lidt længere levetid end en døgnflue. Og skal jeg være helt ærlig, så er titlen også et lille statement for mig selv om overlevelse i musikbranchen efter alle de år, hvor man måske pletvist har været dømt ude trods 4 ugens uundgåelige, 6 ugens albums og talrige sange til TV-serier ('Havana' m.fl.).