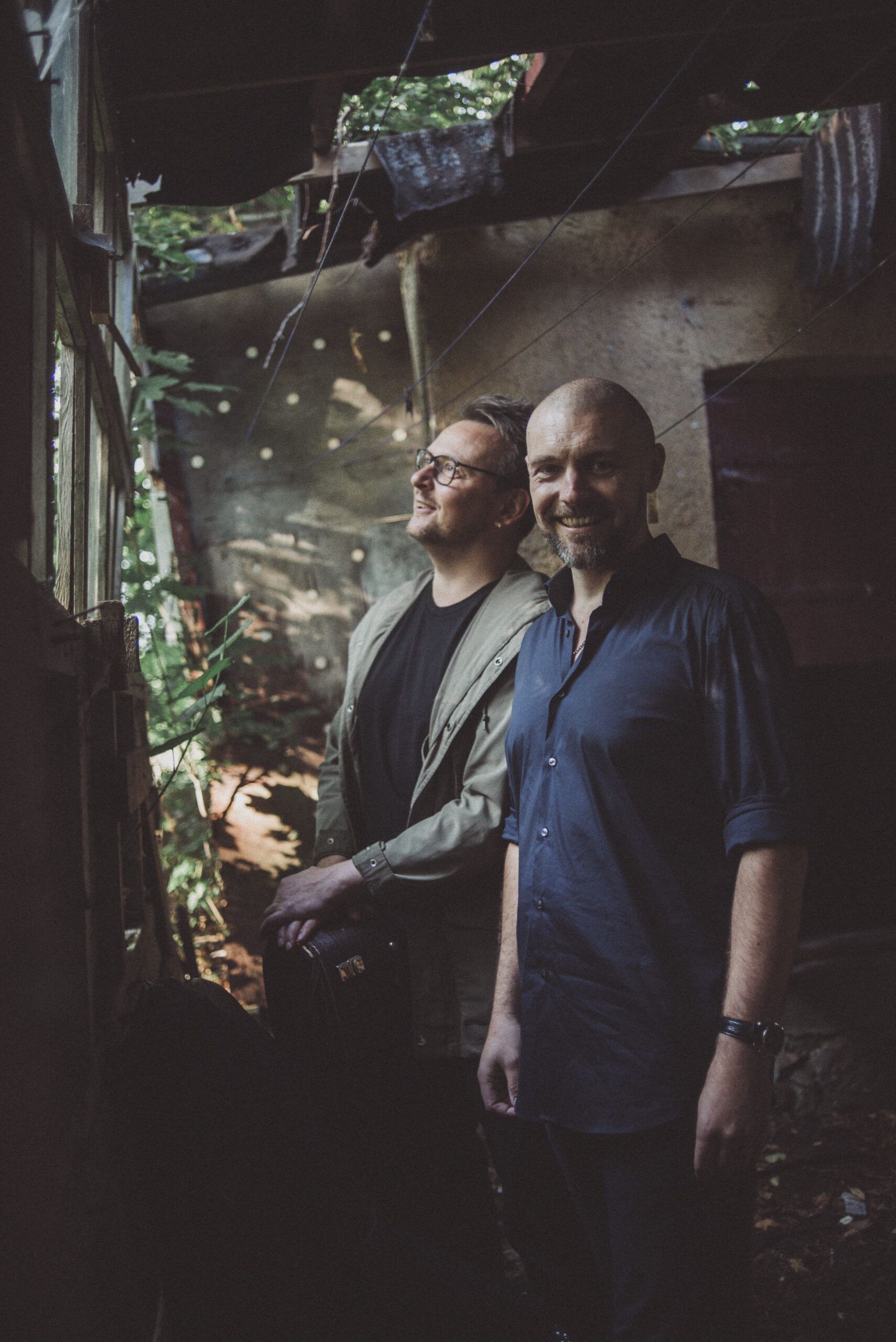 Gæsterne
Gæsterne albumdebuterer med villavejs-rock i blodet
GÆSTERNE hylder mødet med publikum på debutalbum, der byder på humørfyldt folkrock til have- og havnefesten. Bag duoen står to erfarne sangskrivere, der med samarbejdet er trådt ud af hver sin comfort zone og har inviteret hinanden angstprovokerende, tillidsfuldt tæt på. Danmarksturné spilles i februar og marts over hele landet.
Christian Juncker og Jonas Breum er begge sangskrivere med solokarrierer bag sig – og nu debuterer de for første gang med det fælles, musikalske legebarn GÆSTERNE. Jonas Breum har på egen hånd markeret sig som sangskriver i mange år og tilmed sat et solidt aftryk i Folkekirkens Salmebog. Christian Juncker kendes nok bedst for sangen om Mogens & Karen, samt titelsangene til familien Behas maritime eventyr (Kurs mod fjerne kyster – Havana m.fl.).
I 2019 gjorde de to sangskrivere noget, de aldrig før havde prøvet – de rakte ud og inviterede hinanden ind i sine respektive universer. "Fra starten skulle GÆSTERNE handle om noget andet end VIP-udstråling og stramme cowboybukser", siger Christian Juncker – "De egentlige stjerner er jo dem, der sidder i salen, dyrker musikken og bruger den i deres liv".
Albummet I Mørket Er Der Ingen Der Skal Sidde Alene består af 11 nye sange, der er indspillet over det seneste år. Og hvis man elsker dansk rock med kærlige hilsener til Kim Larsen, The Travelling Wilburys og Shu-bi-dua, vil GÆSTERNE opleves som godt, humoristisk og tidsløst selskab.
Bag pladens titel venter en fortælling om at trodse ensomheden sammen. På pladens cover ser Juncker og Breum sig over skulderen på en solbeskinnet skov-allé en sommeraften med en gnist af både nostalgi og optimisme, og således spadserer de to sangskrivere ud i det åbne – "For det er netop det, vi kan sammen, mig og Christian. Vi giver hinanden styrke og mod til at prøve en ny vej", fastslår Jonas Breum og fortsætter: "Den musik, vi voksede op med, var Kim Larsen og Shu-bi-dua – alt sammen musik, der samlede mennesker. Vi lever i en verden, hvor der hele tiden bliver talt om det, der adskiller os, alt det vi er uenige om, alt det uforsonlige. Det skaber ensomhed. Vi trænger alle sammen til en pause i det store, offentlige skænderi. Det er vigtigt at række ud og være sammen."
GÆSTERNE radiodebuterede i januar 2020 med P4-singlen De Livskloge & Dem på Violin. En hel del live-koncerter i forsamlingshuse, på kroer og spillesteder gav duoen blod på koncert-tanden, indtil en velkendt pandemi sendte Juncker og Breum i pitstop i pladestudiet. Her blev albummets 11 sange skrevet og indspillet i en stemning af legelyst og tillid – og godt et år senere udkommer nu resultatet.
Albummet byder på moderne folkrock med en snert af dansk country. Fra drømmehymnen Alaska til kærlighedsvisen Tror Du Vi Skal Følges Ad til 80'er barndomsnostalgi i Mormor & Morfar. Fra fortolkningen af digteren Emil Aarestrups Skovensomhed til klagesangen Dronningen Sover På Amalienborg. Og så er der pladens titelnummer I Mørket Er Der Ingen Der Skal Sidde Alene. Et rockabilly-nummer, der lyder som soundtracket til en svensk midsommerfest og er fridigtet over digteren Jeppe Aakjærs Spurven Sidder Stum Bag Kvist. Og det folkelige gennembruds familielandbrug, moderens rokke og faderens bibel er erstattet af dræbersnegle, kommercielle, amerikanske højtider og ikke mindst digitale tidsfræsere. Mørket er måske det samme, men med GÆSTERNES ensomhedsbekæmpende debut skal ingen længere sidde dér alene!
Bestil albummet via Targetshop her: 
https://www.targetshop.dk/gaesterne