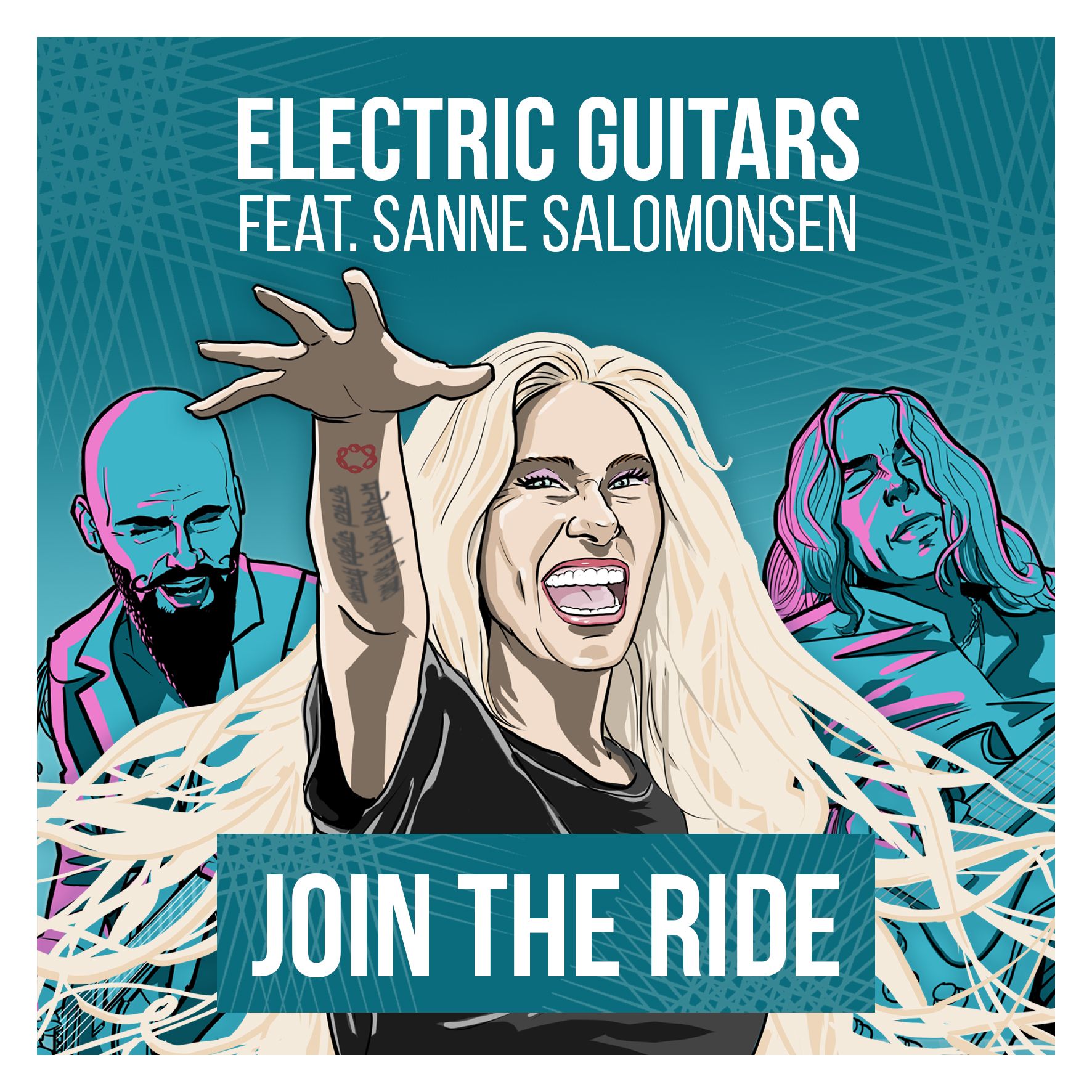 Electric Guitars feat. Sanne Salomonsen – Join The Ride (single)
ELECTRIC GUITARS feat. SANNE SALOMONSEN –"Join The Ride" – single
Release 13 maj-22
De mødtes ved et tilfælde, men med den nye sang "Join The Ride" –viser de, at der måske var en højere mening med det møde…. Sanne og Electric Guitars slår gnister
Da Sanne ved et velgørenheds arrangement for hjemløse i 2019 havde sunget for første gang med Electric Guitars, var der ingen tvivl. Mennesker mødes og rock musik opstår. Et ægte kærlighedsforhold fæstet i rock'n'roll blev født mellem en af Danmarks bedste sangerinder og to af Danmarks bedste guitarister –Og som Sanne sagde 'l Mika Vandborg og Søren Andersen efter deres fælles optræden: "Det bli'r ikke sidste gang drenge"
Allerede i 2020 tog Electric Guitars og Sanne på tour sammen for første gang. Og det virkede! I den grad! Publikum elskede det -Electric Guitars elskede det -og Sanne elskede det. Sannes imponerende rock bag-katalog røg over scenen, med en gnist der kunne mærkes, føles, ses og høres.
Nu er der så sprit nyt fra Electric Guitars & Sanne, for når man nu er blevet rigtige musikalske kærester, hvad er så mere naturligt end et kærlighedsbarn i form af en sang "Join The Ride".
Søren Andersen siger: Det var SÅ vild en inspiration at få sange som "Kød & blod", "Sæt fri", "Sui Sui", "Love Don't Bother Me" og "Den lille løgn" i hænderne. De satte automatisk noget igang. Først dukkede et riff op, der blev en melodi, en vibe og en sound. Den sound der simpelthen skreg på Sanne. Mika og jeg skrev og komponerede "Join The Ride" med et mål. Vi sendte Sanne sangen og hun svarede straks tilbage: Yes boys!
Mika Vandborg: "Join The Ride" er en hyldest til vores samarbejde, et shout-out til guitar drevet rock'n'roll og så er det ganske simpelt bare skrevet til den største danske rocksangerinde". Og sangen er blot begyndelsen på et forår og sommer med Sanne og drengene i Electric Guitars. Der er lagt i ovnen til masser af shows i fremtiden. Det er muligt de mødtes tilfældigt, men Electric Guitars & Sanne er bare "Born to rock"…. –og det kan du høre på "Join The Ride" –Go' fornøjelse, du tager med på eget ansvar.