Den Syvende Søn; 60'ernes beatmusik får en adrenalinindsprøjtning.
[bs_collapse]
[bs_collapse_item title="English" active="not_active"]N/A[/bs_collapse_item]
[bs_collapse_item title="Danish" active="active"]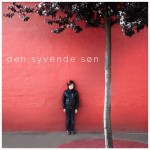 I vinteren 2011 sad Adam, Mikkel og Michel på bagsædet af en bil på vej hjem fra et job i Jylland. De talte om at Michel aldrig havde haft et band, hvor man bare øvede og skrev sange sammen, fandt sin lyd osv.  Kun i sammenhænge hvor der blev øvet for at være klar til at gå i studiet, eller skulle ud at spille koncerter. Responsen fra de andre var prompte at et sådan band skulle de da bare lave!
–
"På toilettet med det lille spejl
Taler til ham med de mange fejl
Smadrer hånden mod den kolde mur
Ham i spejlet har gjort mig sur"
("Dæmonernes Støj")
Kort tid efter stod de i en bunker og spillede for første gang. I mellemtiden var Mads og Tobias også kommet med og Den Syvende Søn var en realitet. Der gik ikke lang tid før ambitionerne fik dem til at aftale at Michel skulle gå hjem og få skrevet nogle flere sange og der blev booket studietid. I vinteren 2012/13 gik Den Syvende Søn i studiet og indspillede deres selvbetitlede debutalbum.
Drengene er alle etablerede musikere der har spillet på en del plader og i forskellige bands. Så en del af ideen har været at lave en plade selv, uden producer, men hvor de selv fandt farven og tonen på pladen undervejs. Inspireret af mange af de gamle, nogle meget gamle, plader fra deres egne hylder derhjemme. Generelt er Den Syvende Søn præget af medlemmernes fælles kærlighed til 60'ernes beatmusik såvel som den psykedeliske rock.
Michel Belli er i kraft af sin far Peter Belli flasket op i musikbranchen, og har udgivet to albums i eget navn.
Adam Winberg spiller trommer og har bl.a. spillet med Death Valley Sleepers, Tue West, The Setting Son og Julie Maria.
Tobias Winberg spiller bas og har bl.a. spillet med Death Valley Sleepers, The Setting Son og Julie Maria.
Mads Jensen spiller keys, og har bl.a. spillet med The Breakers og Death Valley Sleepers.
Mikkel Grue spiller guitar og har fungeret som studie musiker, hvor han bl.a. har medvirket hos Poul Krebs, Juncker og ikke mindst på Michel Bellis to solo albums.
På 1. singlen "Hun Sagde Han Sagde" synger Michel i øvrigt duet med
Maya Albana.
Om navnet fortæller Michel Belli:
"Den Syvende Søn fandt vi hurtigt på og syntes at det havde en god klang, men blev bare mere overbevist om navnet da vi undersøgte det nærmere. I Vesten tillagde man den syvende søns syvende søn stor betydning. Legendernes personligheder har som regel syv sønner. I Tyskland kunne kongen (eller kejseren) ikke sige nej til at være gudfader til en syvende søn − om han så var tigger" .
"Hvad hvis jeg var junkie
Eller konge af Peru
Langt væk fra din verden
Fortæl mig hvad jeg sku'
Du rider på dit flow
Det er dit ego show"
("Den Syvende Søn")
"Den Syvende Søn" udkommer d. 4. november 2013 på Target Records
Trackliste:
01. Dæmonernes Støj
02. Feber For En Stund
03. Din Bitterhed
04. Du Er Mit Trip
05. Hun Sagde Han Sagde
06. Den Syvende Søn
07. Brændende Hud
08. 80'er Festen
09. De Ting Vi Siger Vi Tror Vi Gør
10. Jeg Har Fundet Hjem
[/bs_collapse_item]
[/bs_collapse]